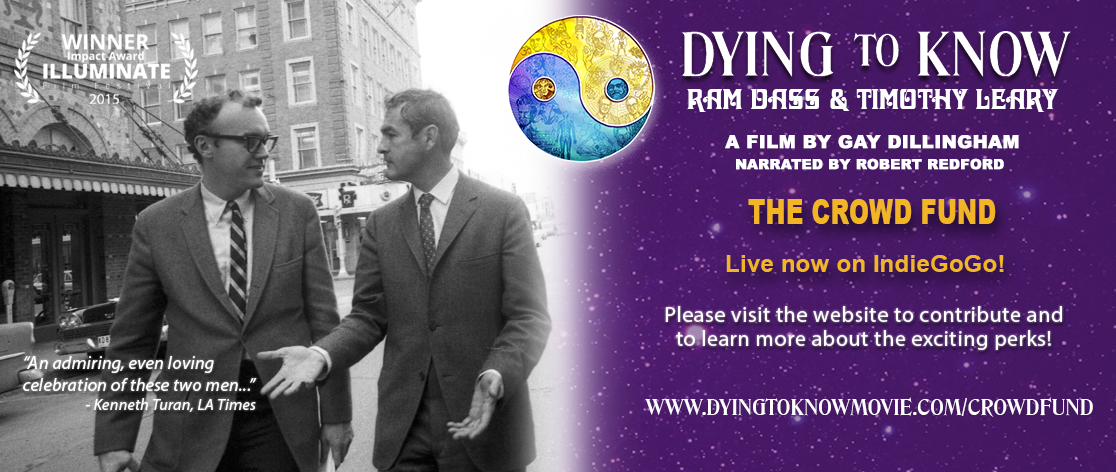 Dear fellow Journeyers,
We are excited to finally be launching our Indiegogo campaign for "Dying to Know: Ram Dass & Timothy Leary". And YAHOO - your contributions are charitable tax deductible!
Through this campaign you can now get a preview digital stream of the feature length film instead of waiting until it is digitally available next year. It makes a great gift! We are also offering some other really cool rewards so check it out. Why are we doing a crowd fund now you ask? Isn't the film out in theaters and doing well? Yes, indeed it is which is why we need your help.
This historic film covers 80 years of footage and freshly addresses our most pressing contemporary taboos of death and drugs leaving the viewer inspired. 20 years in the making the film re-assesses the lives of these two iconic figures through the lens of their work, successes and failures, collaboration, and their divergent paths. When Timothy Leary faces death, he reaches out to Ram Dass as he embarks on his most remarkable trip. Together as friends, collaborators and individuals these luminaries of social change became two sides of a coin, the mind and the heart of a generation. Whether you knew them or not they changed your life.
We have been busy taking our film around the country from LA & San Francisco to NY, from Tucson to Minneapolis. North, South, East and West we've witnessed this film, this story, to be a fire starter around our modern campfire - engaging in deep, lively discussions with people of all ages from 18 to 80. We want to continue stirring the cultural pot helping folks talk about the things many of us are Dying to discuss - life & death, drugs, medicine, & consciousness. This engagement takes money for promotion, hard costs for distribution, coordinating the group discussions and much more.
"Electrifying and enlightening. It will captivate and nourish the minds and souls of audiences both young and old."
-Avi Offer, NYC Movie Guru
This story of a relationship is more than a piece of history. It is contemporary in that it speaks to our eternal quest for meaning within the mystery. We have been witnessing young people that don't know these two icons get as much or more out of the film as the baby boomers who are facing their own final chapter of life or those of us who care for a dying loved one. We've had people come 2,3 and four times and almost universally hear them say the film deeply inspires them and it helps them engage these taboos with a more open heart & mind. An 18-year-old Spanish girl said it "made her want to live more and love more."
Through this crowd fund you can not only get an early stream of the film but you can help us continue our face to face, heart to heart exchanges. We continue to invite luminaries from each community to join us from drug policy and rites of passage to end of life choices and death with dignity.
We are ready to take the film into schools designing ways for individuals and groups to explore further. What are you Dying to Know?
We need your help to spread the conversation, to deepen our understanding about the practice of psychological death and rebirth in its myriad forms. In studies at New York University psilocybin was used to break alcohol addiction and help relieve end of life anxiety. Many of these scientific researchers love the film and have joined us for the after screening dialogs. This is a family film you can show your kids/grandkids as well as a film people want to experience in their last moments on this spaceship earth.
If you don't have money to give you can still be involved as an Ambassador to spread the word about our Dying to Know campaign. You can also be a Captain in your town or city for our Gathr campaign (check out website for details). Help us build our community.
These funds will help us connect with and support the other important communities both on line and in the flesh who are building awareness and hope around drug policy and end of life choices, as well as expanding consciousness.
There are many cool rewards to choose from including our film poster and a Be Here Now book signed by Ram Dass, a BHN clock, a cool tote bag and a gift stream of the film for your friends or family.
We hope you will join our team and this movement. Please share the link on Facebook, Twitter or wherever else you find conscious social discussion taking place.
With Love,
Gay